The Shards of Memory
Among the books that I almost always have at hand - copies of a couple of them are occasionally spotted in the office, in the car, in the loo, even in my travel bag on long trips - is one called Sarodé Ghalib, a collection of Mirza Sahab's couplets compiled by Yusuf Bukhari Dehlavi. It is indexed by theme/topic - a tricky and never totally 'complete-able' task as people continue to find new meanings and shades in his verses that existing indexes have not considered. Such re-interpretations are natural for a work about which many concur with a thought expressed by Ghalib himself - Aatay haeñ ghaeb say yeh mazaameeñ khayaal mayñ -  a view that adds even more dimensions to each phrase and reference.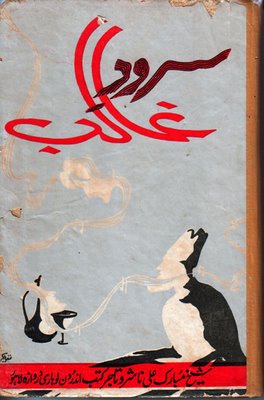 Along with Aziz-ur-Rahman Sahab's 8-volume(!) 
Ilmé Majlisee 
(my 12th birthday gift from Ummi, who purchased it from
Kitab Mahal
- Qizilibash Chacha's unforgettable bookshop that was an institution in Karachi), it serves well as a reference book when one needs a
shayree
quotation, specially in these days of rapidly failing memory.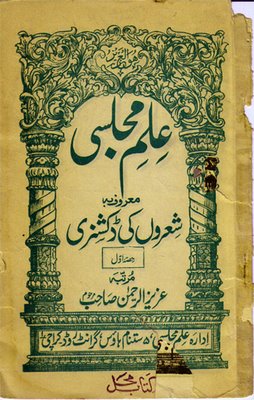 Today, as I mourn with many of you the passing of Ahmad Faraz,
Sarodé Ghalib
takes on a special significance as it was given to me by him in 1969 - on the occasion of Ghalib's 100th death anniversary - and bears on its first page, at my request, the 3
shayrs
that I had first heard Faraz recite. (The reference in the couplets is to the 'de-throning' of the great dictator, Ayub Khan.)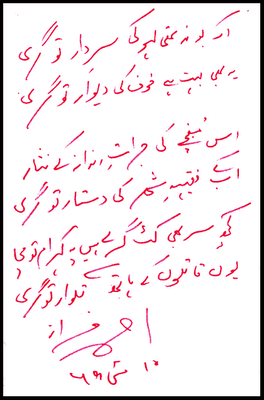 Rest in Peace, Faraz. I can only modify your words and say:
Ham ko ghamé hastee bhi gavaara tha keh tüm thay ...
Labels: Books, Literature, Pakistan, People, Personal, Poetry, Urdu