Pervez Hoodbhoy, SuperStar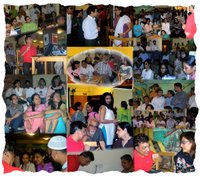 One problem of being associated with T2F is that I have been hesitant to blog about the events too frequently, lest it be seen as a 'plug' for Sabeen's café-plus-mind_share_space. but I guess it's ok as long as I stick to the event and make it anecdotal and talk less of the ambience. In fact, I think I'll try and recap some of the earlier events in my next few post[s], since there's an audience outside of Karachi that may enjoy hearing about them, too. OK. So, this one's about the recent talk by Pervez Hoodbhoy, part of a monthly series to be hosted at T2F under the title Science ka Adda (SKA from now on on this blog). You can read more about the series at the site, so lemme move on. The space, usually laid out café-style, seats 44 ... though events have always required creating more room by moving things around. Tee-M's 60's rock evening and Saad's OpenMic night shot the audience to around 100±. But that was to be expected. It's a 'Pop' world. However, Pervez Hoodbhoy's audience surpassed both evenings. While his youthful looks still draws sighs from young girls (I heard two that night!), the majority was there for the love of the subject. You may wish to watch a small-sized QT-based slideshow featuring that evening's guests ... or prefer to click the image above to see the crowd, made up of young and old, artists, singers, dancers, architects, writers, conservative, rebellious, religious, atheists, fundos, freethinkers, doctors and students. Wow! Yes, Science can be fascinating, if the issues are seen in the context of our lives, away from the technical, jargon-filled research that most of us realize is essential but find incomprehensible. Like many who attended, I am certainly looking forward to hearing others - after PH's illuminating talk (From Quarks to Humans) on the Origins of the Universe and his 'attempts' to answer a range of questions. We need to have public discussions on Science and Ethics (questions of Stem-Cell research, Genetic Manipulation, Gender Manipulation, Euthanasia, GM Foods --- all are in the news these days) and a lot more. BTW, when I said PH's attempts at answering questions, I was in no way implying that he was unable to do so for lack of knowledge. Some - on the more specific technical areas - required more time (and, a few were answered post-talk in small groups); others - such as those grounded purely on religious dogma - require an eternity and a more tolerant society. For those who lingered on after the event for their own friendly discussions, over coffee and snacks, there was a special treat: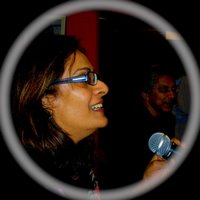 The fabulous Tina Sani decided to delight her
self-confessed-fan
Pervez and the rest with an impromptu rendition of
Rabba Sachcheya
- one of my favourites. The absence of any intrusive musical accompaniment made it all the more beautiful for me. I captured it on a small handheld recorder and sent the file to her last night, seeking permission to share it on my blog. This what she sent by SMS today: "Seriously? What Fun! It's Faiz ...
Let it roll!

"
Thanks, Tina.
Oh, and Sheema, since

you

are at these evenings often, don't forget to carry

ghungroos

in your purse the next time :-)
Labels: Education, Events, Literature, Music, Pakistan, People, Personal, Poetry, Religion, Science, T2F, Technology, Urdu