Ghalib: Still creating controversy :-)
The two sessions on Ghalib at T2F had gone delightfully well. A true celebration of that genius, with anecdotes, humour, wit, and song that evoked the spirit of Mirza sahab perfectly. EGO, the boutique on ZamZama (a shopping area in Karachi), decided to join in the fun and commemorate the events with a new tee-shirt, displayed on a mannequin placed just after the entrance. The figure looked kinda irreverently funny, in a white underwear and turquoise tee.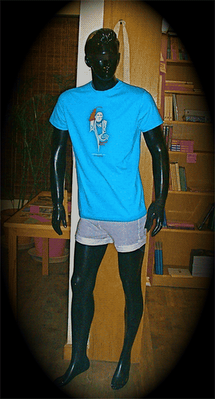 All went well until a local TV channel decided to shoot a talk show series there. After the first couple of episodes were shot, I was surprised to walk into another day of shooting and see a pair of trousers being put on the mannequin. I thought they were just trying to be funny but was taken aback when I was told that their censor-advisor had said they could be contravening some broadcasting code by showing a man in just an underwear.
Man?
He's an effing 'Manny', yaar. What's the matter with everyone in this country? "Hello, world. Er-r ... we're an enlightened and moderate people who, er-r, just happened to get turned on by inanimate plastic figures." Guess if Alan Abel had perpetrated his hoax in Pakistan, he'd have gotten a huge following. For those who haven't seen the tee, up close, here's what it says (and you can enlarge the thing to a poster-print, if you click on the image):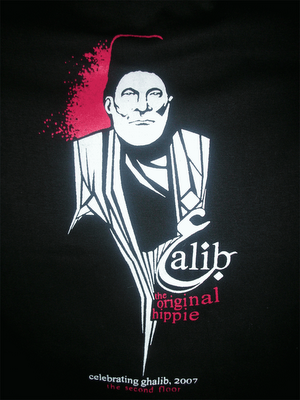 The tee-shirt passed muster with all who attended the two sessions - and that means a total of over 150 people, among them Ghalib aficionados and lovers, old and young. I'd say the crowd was evenly spread, age-wise, and included - at the extreme ends - a couple of high-school students, O-Level Math books in hand, and an 80-year old educationist who is also a Ghalib scholar. However, last week, as I was settling my bill at the counter, a young man walked up and passed me a small neatly-folded slip of paper and rushed out, without waiting for me to read it, much less respond. I wish he'd stayed - for Sabeen's venture

is

all about conversation and dialogue. A point of view, however different from mine, would - therefore - have been wonderful to hear and discuss. Anyway, this is what he had written: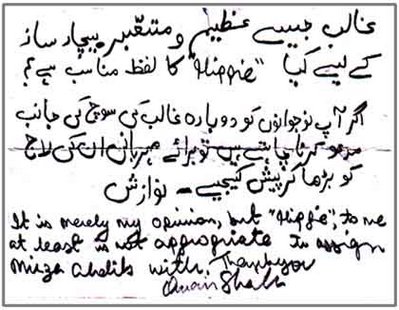 Now, of course, he has a right to his view ... and it is, indeed,

heartening

to see that his objection is to what
he
considers 'disrespect' for Mirza Ghalib.

Nothing could be further from the minds of those of us who wear the tees, those at T2F who chose to display & sell them, and those at EGO who designed and manufactured them.

The 2 sessions - I am not sure if he was among the audience on either - paid Mirza Ghalib much
loving
respect and made him, as later reactions from many of the younger people indicated, more accessible to many. The word 'hippie', to this young man, probably has the connotations that the establishment of the time had managed to imbue it with: a good-for-nothing, unkempt, drop-out. Skip Stone's

The Way of the Hippie

offers this:
"... let's see what defines a hippie. Some say it's the way people dress, and behave, a lifestyle. Others classify drug users and rock 'n' roll fans or those with certain radical political views as hippies.

The dictionary defines a hippie as one who doesn't conform to society's standards and advocates a liberal attitude and lifestyle.

"
Ghalib was, by all reckoning, a non-conformist ... and as great an advocate of the liberal attitude as any. And so, dear young man, Mirza sahab is truly worthy of being called

the original hippie

(pre-dating , as he did, the 'movement' by over a century). And I - a very strong believer in the hippie philosophy, myself - am proud of having him linked to the movement that began in the 60s and continues to live - in various forms - even today.
If Ghalib were to hear of all this, he'd just smile and say:
Gar ke hae kis kis buraaee say, valay baa eeñ hamah
Zikr mayraa müjh say behtar hae keh, 'T2F' meñ hae!
Labels: Activism, Art, Literature, Media, People, Personal, Poetry, Politics, T2F, Urdu