The past IS another country!
Adil Najam & Owais Mughal never cease to amaze me for the sheer range of topics they manage to cover at any given time. It really is All Things Pakistan! I am truly delighted to see Politically Incorrect or a Funny Ad? featured immediately after Iftikhar Chaudhry Reinstated: What Now? Since the CJ is being written about everywhere, I don't think I could add much to it, other than this: I'll be impressed by the 'true independence' of the judiciary when the reinstated CJ feels neither pressured by a khisiana president nor by the Sharifs' demand for returning favours and does not reverse the judicial order against them, if he genuinely feels that upholding it would be right. Now to the ad and ATP post that prompted me to write. (Actually, this was also a form of of procrastination, given the pile of work that lies before me.) But do visit the ATP post first. Done? Ok. After the flood of 'Fair & Lovely' - from its very name to all its implications and the horrifying ads - nothing seems politically incorrect. (Although political correctness, itself, often goes ridiculously far: Dwarfs are 'vertically challenged'? Gimme a break!!!)
I have mentioned this in some other post, but it's worth repeating: Fair & Lovely lists Pakistan's Armed Forces as its largest purchaser! Does the enemy have any chance after that?
My tangential objection, however, is to the Urdu[?]: Gharayloo-o-Office? Even a pageful of 'aaarghs' wouldn't express what I feel. 'Vaao' for 'and', as we dying purists will hold, should - strictly speaking - be used only to connect two Urdu words (generally, though not always, nouns) that are of Persian or Arabic origin.
Vahm-o-Gumaañ
and
Saum-o-Salaat
are fine.
Chaabi-o-Taala
is a no-no! This applies to not just Hindi examples, like the one above, but also to words and phrases from
other
languages that have gained acceptability in Urdu: Computer-o-Monitor? Nopes! No English. Just Faarsi-o-Arabi. Which is not the same as Persian-o-Arabic! However,
Gharayloo-o-Office
sinks the misuse to a really low depth. It even
sounds
horrible! I know, I know. Some of you are saying 'language changes' and this old man is clinging to a past with no sensible reason. Ok. So maybe it
is
a personal quirk. But, then, this
is
a personal blog. (Owais/Adil,
this
is why I did not comment on ATP). Perhaps I represent a generation that still clings to some of what we thought were the niceties of the past. I am reminded of 3 Urdu lines that I always recall with delight. They'll also serve to better show you where - as they'd say in the changed language of today - 'I am coming from'. All 3 examples are quoted from memory, so they are not verbatim. All refer to the period immediately after 1947: The first is from the famous Khwaja Mueenuddin play
Laal Qilay Say Lalukhet Tak
. The young hero informs his father
"baagh mayñ kavvay chahchahaa rahay haeñ"
. The shocked Nawab saahab says, indignantly,
"Chahchahaa rahay haeñ? Jab maeñ mar jaaooñ ga to 'peehooñ peehooñ' karayñ gay?"
The second is from the inimitable pen of Mushtaq Ahmad Yusufi. Describing his horror after a visit to a singing girl in Karachi's Napier Road, once this city's
only
'red-light' district
(ab to har mo∂ par chiraaghaañ hae!)
, a character in his book says:
"Üss kambakht ka talaffüz to üss kay kirdaar say bhi ziaadah kharaab niklaa!"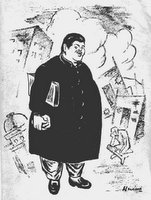 The third, perhaps less remembered, has a particular reference to Karachi's street Urdu, influenced, as it then was, by Bombay-vaalaas and the Gujratis. Majeed Lahori, who edited
Namakdaan
and gave us such wonderful characters as
Ramzani
(the Everyman), proverbial seths
Tube Jee & Tyre Jee
(a reference to Tayyab Ji & Taahir Ji), and Fraudsons (representing business groups that had sprung up overnight), was also a prolific humourous poet. His collection,
Kaané Nama
k, desperately needs a re-printing. This couplet is part of one of his more popular ghazals:
Paan mayñ choona jaastee maaro

Kitnee sheereeñ zabaan haé, pyaaray
(At the Shanaakht Festival to be held at the Karachi's Arts Council in early April I hope to share some of Majeed Lahori's work , along with that of other humourous poets.)
Such reactions about language are not common only among those who cling to Urdu. When publicity posters for Alfred Hitchcock's "The Birds" were plastered in London's Tube Stations, they claimed (in correct grammar and with an obvious reference to the popular line of the McCarthy era: The Russians Are Coming!): "The Birds is coming! The Birds is coming!". This was, obviously, too much for some (pigmentally challenged?) Englishman who scrawled across several of them: "And good English is wenting!"
Labels: Literature, Media, Pakistan, People, Personal, Poetry, Politics, Urdu