Quo Vadis?
Quo Vadis - the name of one my all-time favourite films - is a Latin term, meaning 'Where are you going?' The Pakistani nation had, over the years, offered no real answer to this question and was beginning to look more and more like the personification of the title of Wynford Vaughan-Thomas's 'Madly In All Directions' - a delightful phrase that often triggers the image of Escher's famous, albeit totally unconnected, work ('Relativity') reproduced below.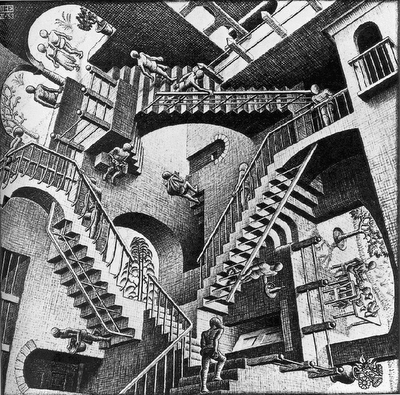 Mirza Ghalib - always a great resource for an apt

shayr

- gives us one possible reason for this by stating:

Along comes Election 2008 and, suddenly, the nation finds a voice (except where party-hired
goondas
or the comperes of the show I am now watching on Business Update choose to throttle it). 
Some election! Some result!
However, while it is difficult enough to reach a goal, when the direction is lacking, it is infinitely more difficult if the goal itself has not been identified before starting off. 60+ years have passed and we have yet to reach a consensus on the basic nature of the country. Democratic? Theocratic? Secular? Ideologically an
Islamic
Republic? Or a Republic that is a homeland for Muslims?
All
Muslims?
A
shayr
of my father comes to mind: