God: Save us from your followers!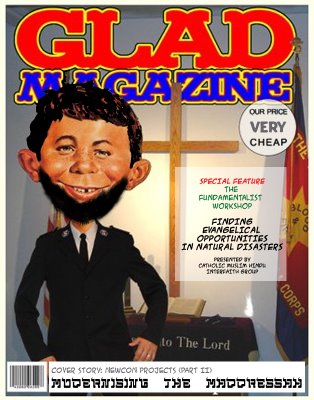 As I switch channels — unable to cope with either the pictures of the recent havoc, or of the monotonous display of quivering bodies of another kind on the countless music(?) stations — I catch a popular compere on QTV, asking another member of the Morality-grows-on-your-chin Brigade, if the quake was a "Test of Faith or even Divine Retribution", the 'capitalization' almost audible!

Another click. Another channel. A saffron-draped man ends his bhajan, pauses until his much-practised serene after-glow look has time to register on the TV camera, then asks the viewers to pray for forgiveness lest "they, too, be punished for forgetting the 'All-Pervading' and focusing on materialistic desires like the quake victims." The audience sits, heads bowed in shame. The phrase, "materialistic desires", reverberates for a while: Audio-technology, combined with Advertising can be a potent combination. But not enough in this age of words being replaced by a thousand pictures. For a fleeting moment, my mind fills the gap and conjures up grotesque Daliesque images: Bleeding children, with begging bowls full of Kentucky Fried Chicken Chunks, and wound-festered infants sitting in the rubble and nibbling Oreo Cookies, while loving parents, in tattered clothes, weep with joy as they look at their progeny from the power-windows of their gleaming overturned Hondas.

Such insane views and insensitive comments are not just the domain of 'backward' India and Pakistan: one only has to google Jerry Falwell or Pat Robertson to find out that similar freaks exist in the world's most 'advanced' nation, where the President claims that God talks to him and instructs him to invade His creations elsewhere.

What, I wonder, do such warped persons think the 400 schoolgirls, who were killed in just one school, could have done to deserve this? And why would any merciful god have punished those who rushed in to save them? I can only suggest to those who believe in such a possibility that, perhaps, the children were "Collateral Damage" in this act of Divine Fury, directed at the real sinners - the leaders of a Religious Right that unleashes acts of political and personal aggression against those who challenge them in any way, or disagree with their version of Faith.

Surely, with their misuse of the Hudood Ordinances, falsification of blasphemy cases, killing of worshippers who belong to another sect or belief system, sodomizing or brutalizing of children trusted to their care for 'religious' education, torturing of wives in ways that even the Marquis de Sade did not imagine, the inventing of 'traditions' and issuing 'fatvaas' to suit their personal purposes - and the covert incitement to countless forms of terrorism - it is they, the mad religiosity perverts, who deserve such fury far more than the poor souls they successfully misguide.
Labels: Activism, Environment, Events, Media, News, Pakistan, People, Politics, Rant, Religion