So, it's Eed again...
At least the official day is here, whether or not we are in a mood to celebrate Eed or not, given the daily tragedies of lives the world over. That is if you care for lives other than your own.
Unless, of course, if you happen to be a celebrity who enjoys this country's support to reach fame but lives 'above' are 'aloof' from its people.
Like someone called
Aminah Sheikh
(sorry, I Googled her and nothing remotely relevant showed up on the first two pages so I remain ignorant about her). She is featured in today's 
The News | You | Starry Eid
, so I
assume
she's a star or a model or something (and presumably not the same person I heard went to the sensitive Hampshire College). I was a bit taken aback to read her statement, "... Most people just want the situation to calm down and celebrate with their family and friends.
The Muhajir-Pathan chaos is at a very distance level from
all of us
and none of us can really comment on the feud ..." 
(
All
of
us
, Miss Sheikh? I suspect The News must have
Muhajir-Pathan
readers, including some who have suffered from the results of 'the feud'. So, who is the
us
here?)
Or like
Ali Azma
t
, who may further the virus of apathy between our various cities through inanities like this.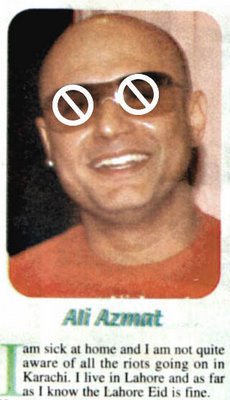 I mean in this day and age, while he is not too ill to grant media interviews, surely he could watch or hear the news and show a little more concern for a city that is home to a horde of his fans.
(To me, Ali, you are not 'sick at home', you are just sick. Period. Perhaps you and Ms. Sheikh should read the views of a Ms. Angie Marshall, who also appears in the same feature.)
As for me, I am with
Mus'hafi
: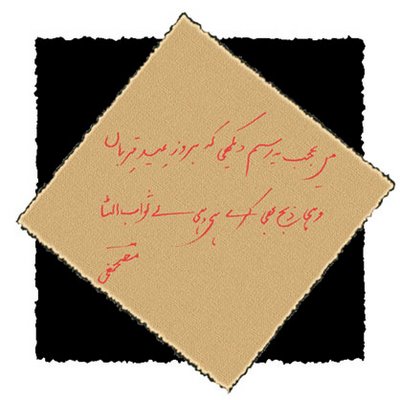 (BTW, horrifying as these days are from the animal's - and humane - point of view,
this link
, sent in by Isa Daudpota, takes you to what else we do to the poor creatures.)
Labels: Media, Pakistan, People, Personal, Politics, Rant, Religion