Ten years on!
When my company, Enabling Technologies,
(later owned and run by Jehan Ara)
developed and launched the internationally acclaimed
Interactive CD-ROM: 
Faiz - Aaj Kay Naam
the main members of the team were
Sabeen, Jehan, Nuzhat & myself.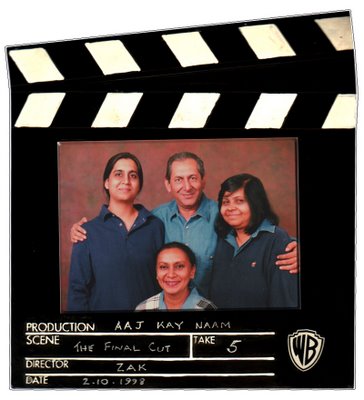 Sabeen has also 
posted
 an earlier picture
of this foursome!
This was the same team that
had produced Pakistan's first-ever
Interactive CD-ROM for IBM Pakistan
(ironically developed on Macs)
on Pakistan's 50th Birthday.
For the same occasion
we had also developed another CD-ROM
50 Years of Art in Pakistan
(featuring 112 Artists, Sculptors, and Ceramists)
for ABN-AMRO Bank.
None of us are formally qualified IT or Business specialists and have learnt everything about both these fields on our own ... so it's rather interesting to see how our lives have revolved around Technology and Business. Nuzhat is an Education Technology Consultant and has facilitated the development of many school IT programs and in-service training. Jehan Ara is the President of P@SHA (Pakistan Software Houses Association). Sabeen is the President of the Karachi Chapter of TIE (The Indus Entrepreneurs). And I am a blogger!
Labels: Apple, Bloggers, Literature, Media, People, Personal, Poetry, Technology, Urdu