In memoriam
Most predictions did not envisage it would be
this
bad, though
at least one
from a Federer fan
did! But, heyyyy, Wimbledon's going to be
really
exciting this time around!
After watching yesterday's debacle, I recalled an old match from another sport.
Polish wrestler Stanisław Jan Cyganiewicz (aka Stanislaus Zbyszko), having had a dubious 'draw' in an earlier encounter, held a return bout in 1928 with the great Ghulam Mohammad, better remembered as Gama Pehlvaan, in Patiala. Zbyszko went down in 42 seconds (the earlier, 'drawn' bout had lasted 3 hours!) ...
I can recall hear my daada (a great fan of wrestling, too, among his other vices), telling us: The gong rang and those of us who looked at our watches to check the starting time looked up and had missed the fight! 
The defeated Stanislaus, in his later life, delivered a surprisingly impressive performance in an early 50's movie, Night and the City. But while Hollywood audiences may have gotten over his wrestling defeat, Bollywood was not so forgiving: The villain in Amar, Akbar, Anthony, who makes beautiful Parveen Babi's life miserable, was named Zbyszko.
The victorious Gama - honored as the Rustamé Zamaan since his win in Patiala - migrated to Pakistan, in 1947, training and mentoring his nephews, the famous Rustamé Pakistan Bholu, Aslam and others.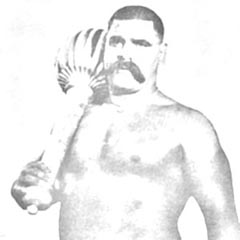 Soon, however, Free-Style Wrestling overtook the classical tradition and the
akhaa∂aas
lost commercial support. The Bholu Clan tried, semi-successfully, to adopt itself to the new rules of a seemingly rule-less ring but purposely losing 'fixed' matches - a
given
in this 'entertainment sport' - was not something they could really take to, being true
pehlvaans ...
 and, so, they soon faded away.
The Great Gama died in the mid- or late 50s, uncelebrated in the country he chose, with little money for treatment. During his last days a small news item, buried in the pages of Dawn, informed us that Georg Zbyzsko, nephew of Gama's rival, had sent a donation towards his medical costs, having heard his uncle always praise Gama's strength and sportsman spirit.