Karachi's Pride comes home!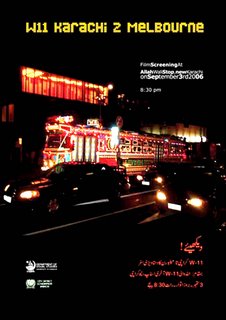 "The W11 is Karachi's most famous bus route because of its spectacular decoration. For the Commonwealth Games 2006, in Melbourne Australia , a team of of W11 decorators from New Karachi, led by Nusrat Iqbal, were invited by Mick Douglas, to decorate a Melbourne tram in the style of W11. The tram ran a free service during the games and some 80,000 people rode on it. It was voted the most popular cultural event of the games. The public response was so good that the tram is scheduled to continue to run as a weekend service. People said that after Pakistan won the world cup in 1992, this was the first time that so much praise was showered on Pakistan. The national and international press has carried the project all over the world. The entire project was filmed by Wajid Ali, a fine art graduate of the Department of Visual Studies, University of Karachi, from its beginnings at the New Karachi workshop to the inauguration and duration of the project in Melbourne.
Please come and see the street screening at Allahwali, the last stop of W11, New Karachi.
Date: September 3, 2006
Time: 8.30 PM
BE ADVENTUROUS ... BE THERE!
You can get there by taking a ride on the W11 from any of its stops, starting from Keamari near the entrance to the Docks.
September 7-22

: a photographic exhibition of the project and a repeat of the screening will be held at the VM Gallery, Karachi.
(Mick Douglas has come from Australia for the two events and will be there to give you more information about the project's aims and achievements.)"
[Text adapted from the e-mailed circular]