The Jihad to end all Jihads?
On most days, Jigar's shayr 
جہلِ خرد نے دن یہ دكھاےٴ 

گھٹ گےٴ انساں بڑھ گےٴ ساےٴ 
comes to haunt me each time I switch on the TV or read the news. Today, however, this ad caught my eye: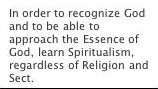 Even to someone not 'into' the Sufi 'system' this seemed innocuous enough, especially given that the alternative being offered to the world is the mad and cruel Talibinized version of Islam
and
it's equally insane counterparts in
other
religions. (Well, in
most
of them, coz I'd really be bowled over if I met a fundamentalist Parsi!)
I mean,
imagine
, IF all the religions could merge into one big happy family, towards a peaceful unity! No Jihads. No Crusades. No Gujarats. No Pogroms. Wouldn't we - or at least the humans among us - be all for it?
But following the link led me to 
this
fantasy…

one that is crying out to be placed on a pedestal, alongside L Ron Hubbard's
con
and that of
Ramtha
, one of the nuts in the group that gave us that well-packaged DVD set of half-truths
('What The Bleep…')
There really IS one born every minute.
Labels: Books, Literature, Media, People, Personal, Politics, Religion, Science, Technology