I am a trifle old-fashioned, I guess ...
While I sort of pride myself on not just how accepting I am of change but on how much I try and do to add to its pace, I admit to being guilty of conservatism when it comes to certain matters.  Among them, are the writing standards that I expect from newspapers. Lately, the quality of writing, as of everything else, has become so bad that it has added to the reasons which have weaned me away from the habit of starting the day with the morning edition of The Daily Yawn.
I agree with some of my friends that
desi
English (though it occasionally grates my sensibilities) is as legit as, say, American English, but I do believe that neither should be considered acceptable when poorly used in professional work.
Had bad writing been a crime, time was when the correspondent who filed the following (and who calls himself a scribe. How quaint!) would have been 'held' instead of the concert he reported upon.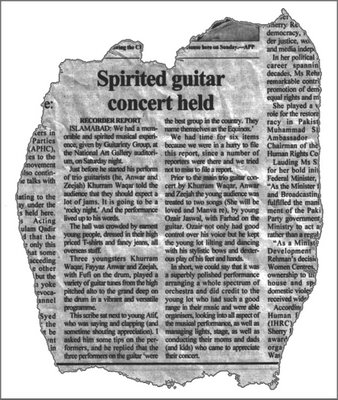 This excerpt is from a business paper and probably speaks the language the majority of its readers do  ... but, to be fair, it deserves to be thanked that it reports on such matters at all in its effort to forge some links between Cents and Sensibility
Labels: Education, Media, Music, News, Pakistan, Rant, Reviews