Operation Cleanup Unearths Treasures ;-)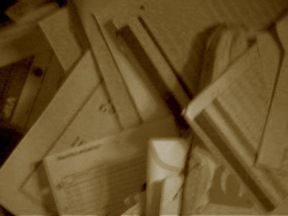 Found a notebook among the junk which is being given to the kabaa∂iaa. It contained some pieces from my days at Government College (Lahore). They have now been rescued and hidden in a special new junk collection place in the house. (I hope Nuzhat is not reading this post!) This is what I discovered of my bachpan kee ghalat-kaariyaañ: English: 3 Limericks (one unrepeatable at any cost); several angst-ridden entries; 12 pages of abandoned attempts to write short stories which had started developing into either corny or horny writing; a diatribe against the college-election politics of Khalid S. Butt (when he stood aginst Kamal Azfar); a page of Tom Swifties ... Anyone remember those? Art (er, not!): A drawing of a tinda ... or was it a shaljam? (we were served one or the other far too frequently) followed by some words expressing the desire to give it back to the cook ... with gruesome details about how! Urdu: 2 Ghazals, 1 Hazal, 1 qit'ah:
nah ham-khayaal haé koee, na ham-zübaañ koee, ajab qabeelah haé, ham jis meñ aaj rahtay haeñ; dimaagh aur kaheeñ haé, to dil kisee jaa haé, takallüfan isay ham phir bhi ghar to kahtay haéñ

- the quadrangle (1957) -
and oodles of
(Price-less)
droodles (yet another popular activity at the time).