From Zakir Naik to Irshad Manji
Much as I want, I can no longer avoid blogging this ... my jaamé sabr runneth over. Someone who wore a Hijab during the days she was my student, has just sent me a long email from Canada about her "journey from the strengthening of blind faith under evangelists like Mr. Zakir Naik to an enlightened modern view of Islam, partially through reading Ms. Manji's excellent book." She has requested anonymity, while becoming less 'anonymous' in real life: She's dropped her Hijab! My reaction, of course, was 'Khajoor say giree, Babool mayñ atkee!' (The equivalent phrase in English is 'From the Frying Pan into the Fire'). Much as both these names have become well-known and have attracted large followings, one reason for the attraction lies in the right mix of truth with fiction and the scholarly image they project to their audiences who, for the most part, are not knowledgeable enough to challenge what are often ignorant remarks, at best.
Mr. Zakir Naik has managed very successfully to exploit the fallacious connection - one not incredibly difficult among products of an education system that teaches people to value memory over understanding - between scholarship and his truly amazing ability to quote verbatim, off the cuff and with equal ease, from the holy books of Islam, Christianity, Judaism, and Hinduism.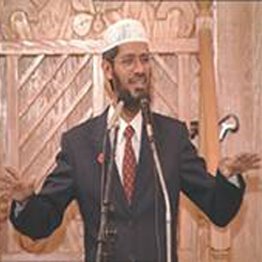 Here is how a website about Famous Muslims describes him:
A medical doctor by degree, Dr. Zakir Naik is renowned as a dynamic international orator on Islam and Comparative Religion. Any Person who listens to his question and answers session is going to be astonished and overwhelmed as he clarifies Islamic viewpoints and clears misconceptions about Islam, using the Quran, authentic Hadith reciting each and giving each Surat, Ayat number (by heart) and he has not only learned Quran and Hadith by heart but has also learned several Bibles, the Talmud and the Torah (the Jewish scriptures), the Mahabharata and the Bhagvad Gita (the Hindu holy books), and other scriptures and gives very satisfying answer in conjunction with reason, logic and scientific facts. He has learned hundred and thousands of pages from different books by heart and has the knowledge of scientific and mathematical facts and theories. Dr. Zakir is popular for his critical analysis and convincing answers to challenging questions posed by audiences specially non-muslims, after his public lecture.
With such a stunning photographic memory, in another day and age, when what The Bushtard has called The Third Awakening was not the primary concern of large masses, he would probably have been part of Ripley's Wonders or P T Barnum's entourage. To his credit is the fact that he is no loony fundo, inciting murder and mayhem unlike many of his extremist counterparts in
all
religions, and that his TV Channel is promoting Interfaith Dialogue (
a tricky matter
) and Peace, (Amen!)
There is little to fault him, since much of what his speech contains are just quotations, accurately repeated from the sources. I have no problem, too, with the conclusions that Mr. Naik occasionally draws; like everyone of us, he has the right to be wrong. It is when he chooses to delve into the many areas not obviously within his scope that his ignorance (and that of the mesmerized, nodding audience) stuns me. Since I really find Mr Naik of no particular interest - other than as entertainment (of the
Shakuntala Devi
kind) or as an occasional measure of a section of the Ummah's pulse - I shall only quote
one
example from his program that I watched last week on Peace TV.
In response to a question about the calendars in use in Arabia, prior to the Hijri-based calendar being adopted by Muslims, he went on to describe the various Lunar Calendars and the Gregorian Calendar, mocking the amusing and obviously paradoxical sounding statement, that Christ was born in 6 BC, without bothering to explain
how this came about
and leaving some (like one 'teacher' who discussed this the next day with me) to think that it was part of some strange Christian belief. :-) But that is not which I found ridiculous ... after all, it could be argued that this was not the place or occasion for such details. It was when he spoke of AD that an ignorance - surprising for someone who must have come across this term in many works on Christ and Christianity - showed up.
Having rightly stated that AD stands for
Anno Domini
, Zakir Naik proceeded to translate this to mean "After Death" - a popular misconception, in the same way as the idea that SOS stands for "Save Our Souls"
which, of course, it does not
! - and then went further on to make the hilarious observation that Muslims would not follow this, anyway,
because
they do not believe in Christ's Death.
Anno Domini
, a Latin phrase, means 'In the Year of Our Lord'. And it starts where BC ends. That is, at the time of Christ's birth, not after his Death (or Disappearance - for those who prefer to subscribe to this view). Just reflect: if what Mr. Naik says
is
the case, what abbreviation or system would he (or anyone else) use to date an event that took place
during
the 33 years of Jesus's life on earth? As for its possible prevalence in the Arabia pre-Islam, no such luck. Anno Domini dating was not adopted until the 8th Century CE (CE= Christian Era, a term often used instead of AD for its relative 'neutrality').
As an informational aside, the currently common Gregorian Calendar, was introduced only as late as 1582, by Pope Gregory. Russia adopted it as late as 1918 and countries in Europe adopted it at different periods, with Greece being the last to do so in 1923! Imagine the difficulties of communicating any dates to anyone in the intervening years. And for a bit of fun, try and guess the name of an imprtant person who was born on Oct 9, 1582 ...
Let me now move on to the much more interesting and complex matter of
Ms. Irshad Manji
. Her name first caught my eye rather late, since her book was not sold in most Pakistani bookstores. Bookshop owners are, naturally, afraid of possible book-burning mobs - not a farfetched fear given the hooliganism previous protestors have displayed. Her comments on the Jalalabad Riots were emailed to me and, if nothing else, since then
The Huffington Post
has become a regular site to visit.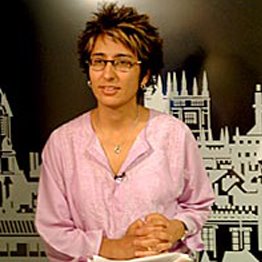 Intrigued by her, I have occasionally been following many of her articles and interviews with amusement and amazement. While admiring her courage to challenge traditions and ideas forced upon her, to be accepted without question, I increasingly began to feel that she plays to the gallery and, in doing so, fails to pay heed to a wonderful bit of old advice about how to act when confronted with subjects one has little knowledge of: It is better to remain silent and be thought a fool than to speak up and remove all doubt.
Unfortunately, her misinterpretations and misunderstanding do more harm than good to her causes (such as

Project Ijtihad

that, with a little refinement and practicalities, could provide much-needed support to Muslim women). Most times, her genuine, often sensible and well-meaning advice or criticism is lost on Muslims who do not wish to hear anything she says, because of the way she says them. As my friend Isa says in his comment on my

post

about Pervez Hoodbhoy's recent TV ouburst,

"

If the idea is to convert people to your way of thinking then it helps to be heard.

"

Were she to just shrug away these people, she'd be left with an audience for whom these issues are of no deep interest.
There are are bound to be people who find some of her ideas and
ways of expression
downright insulting (and not without reason). Others find her claiming to be a Muslim itself odd, especially when she denies some of the very basics of their beliefs, such as the purity of the Qur'an as an unaltered word of God, as she does in the
Jalalabad post
mentioned above. Surely, among Muslims there are people who can engage her in a debate and, as always happens in such encounters, provided both sides come with open minds, each could learn much from the other. I am, quite obviously, not talking about those who indulge in vulgarisms and character assassination, on her site and elsewhere, for matters that are not the topic of her writings and lectures on Islam but of her personal concern.
This summer, particularly after a 'nonversation' with 2 young Hijab-clad Pakistani girls, back from their North American colleges, who said many negative things about Ms Manji but had not read a word by her or could even quote anything they had heard, I decided to read the much acclaimed and hated book myself. The Urdu edition is made available on the website as a FREE download - along with the Arabic and Persian editions - on the reasonable premise that the book is unlikely to be sold openly in countries where these languages are generally spoken. Although the site does show a Pakistan edition under 'Buy the Book', the link leads only to an online version. As for the other versions, it is unclear whether it is to boost sales that some editions conveniently drop the 'Today' - adding a different twist to the title - or whether some add it to tone matters down. I found the Urdu downloadable and online editions difficult to read as the scan resolution was too low to enlarge without horrible jaggies and my eyes can no longer cope with the original size. So I finally obtained an English print edition from India a month ago.
Irshad Manji's
The Trouble With Islam Today
has been quite a roller-coaster of an experience. I would certainly recommend the book to all but the easily inflamed. But recommendation does not mean approval for all she says. In fact, I will be writing a fuller review of the book in the next fortnight, and taking issue with some of its misrepresentations and falsehoods that mar what could have been a very interesting critique of the Muslim society today. I would have done it in sooner, but an imminent trip to Bangkok, in connection with a
Drik Partnership
meeting, has me engaged in a host of other activities.