But I thought our National Bird was the Ostrich ...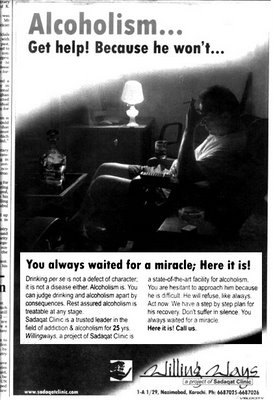 The ad in Sinday Times struck me as particularly interesting. Not just because of its acceptance that, despite a ban on Alcohol sales, people are drinking in sufficient numbers for a large enough percentage among them to become alcoholics and keep a project such as Willing Ways going.

Neither was it because the advertising clinic has been acknowledging and treating the problem for 25 years in this Land of the Pure.

It was the use of the male pronoun in describing the prospective patient - which assumes, rightly, that the bulk of them are men - that caught my eye.

The clinic is, after all, situated in Nazimabad, where women are unlikely to drink. Not true of DHA according to the Doctor-on-Duty at the NICVD, where I had taken my wife for a check up after a chest pain last week. He asked her where she lived and, on hearing our address, said, "Oh. Most of the women from there smoke and drink, which causes heart problems." (Talk of sweeping statements! I think they should transfer him from Emergencies to Janatorial Services.)

So, Willing Ways, how about a female alcoholism centre in this area?

The opening line of the body reads: Drinking per se is not a defect of character. Alcoholism is." Now that's really interesting to know.