If Apostasy didn't carry a (disputed) Death Penalty
... I'd have switched to FSMism and become a Pastafarian. Yes, that's not a typo. I said Pastafarian!
Who, after all, can resist such clear-headed thinking as that of Bobby Henderson, Founder and Prophet of the
Church of the Flying Spaghetti Monste
r. The Gospel of FSM, which Bobby also authored at the peak of the
Evolution vs. Intelligent Design
debates, is one of the most hilarious spoofs of the generally unspoofable. Here's an excerpt from the section
Towards a New Science
:
... [S]houldn't we endeavor to give scientists the largest collection of tools possible? No one is saying that they have to apply a supernatural explanation to any particular phenomenon. Only that the supernatural be

available

if nothing else works, or if it is convenient for deceptive political purposes. And remember, this is not a radical new idea. In terms of years in use, supernatural science -

SuperScience

if you will - has the edge on conventional science. Conventional, or empirical, science has been in use for only a few hundred years. Obviously there must be a reason supernatural science lasted so long, before this empirical-science fad began. Could it be that supernatural science is more

productive

than empirical science?
For those skeptics demanding evidence in support of such a seemingly outlandish assumption, the Gospel offers many examples.
Here's one
!
The book is hilarious - but, not too deep under the surface, it offers a scathing criticism of the kind of crap that the ID proponents resort to. What else, after all, would you expect from a book that starts with this disclaimer: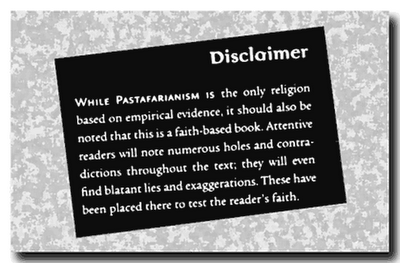 Labels: Books, Literature, Personal, Politics, Religion, Reviews, Science