They're back, with a vengenace!
Maybe it's a false memory ... but I seem to remember that cigarette ads were banned. Or, if they were not banned, something had prevented them from appearing in newspapers. Suddenly, there's a spate of them. And, by the freshness and intensity of the campaigns (posters in public places, half-pagers in major newspapers, airport lounges with bigger smokers' sections replete with brand ads) it does seem that something has 'given'. While the USA makes smoking in public places more and more impossible, our public places encourage this. During a recent trip I sat at a Pakistani airport business lounge. Three large gentlemen (who had earlier been seen off by a fair-sized group) arrived and sat in the non-smoking area and lit up. One of them looked around and could not see the Smokers' Corner sign but was courteous enough to ask the lady at the desk where they could move to smoke. And she, all smiles, said "Sir, jahaañ marzee piyayñ, koee mind naheeñ karay ga. Sabhee aap ko jaantay haeñ." Aaargh! On flights, where the question of smoking no longer arises, we still have announcements that humbly 'request' people to 'co-operate' and refrain from smoking. Some passengers, almost always from among those who sit in the seats of power, still occasionally flaunt the rule and the airline staff is too intimidated to object. On one flight from Lahore, one of the more daring stewards did raise enough courage to say to a mustachioed black-vested 'gentleman' (a word that lost its meaning years ago) who, to the horror of some, had started smoking in the seat, "Aap idhar pantry mayñ aa jaaeñ - küchh passengers ko aytraaz ho sakta hae..." I wonder if, as my friend Isa has suggested, strengthening my suspicions, this newfound leeway to tobacco companies is directly related to the stringency in the USA, which is leading to lessening of smokers there. And the Push is by Bush to Mush for allowing US Tobacco manufacturers to expand their markets here. After all, we have large populations. And our life isn't exactly revered by the Bushtards.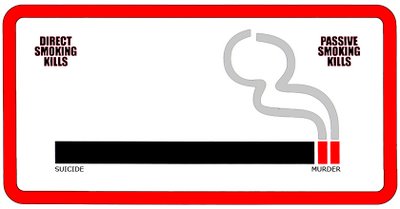 Adapted from an Ad Campaign by the American Lung Association
Of course, there is always a positive side: Tobacco Kills ... and our anti-population explosion projects, such as projects encouraging birth control , are not working. .. and every bit of help counts. So, Cigarette Manufacturers, Fundos, Car/Phone Snatchers, Quacks, and Faith Healers: Rejoice! Your unwitting support to your country's overpopulation problem, however unconventional, is welcome.