Loud and Clear?
Tom Lehrer, in one of his usual brilliant performances (Kazaa or Limewire him; Reading the lyrics is great, but listening to him is a lot more fun!), highlighted the dilemma well when he said, "Everyone ought to love one another. And I know there are people who do not love one another ... and I hate such people!" Controversial author Sam Harris, on a more serious note, says

"... most sensible people advocate something called "religious tolerance." While religious tolerance is surely better than religious war, tolerance is not without its liabilities. Our fear of provoking religious hatred has rendered us incapable of criticizing ideas that are now patently absurd and increasingly maladaptive. It has also obliged us to lie to ourselves — repeatedly and at the highest levels — about the compatibility between religious faith and scientific rationality."
But a really 'thought-provoking' statement that caught my eye comes from a major religious figure.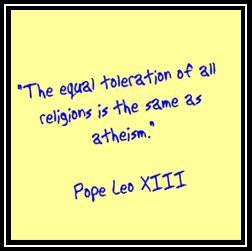 I wonder what Bushama will make of this!!!